28 October, VIRUS 2020

PETITION: Stop Nigeria's lawless palm oil industry. DONATION ALERT: Nigeria's front-line forest guardians need our support. Rainforest Rescue
The world's banks must start to value nature and stop paying for its destruction. The Guardian
Meet the people rescuing and caring for the animal survivors of Australia's devastating bushfires. PBS
The Deputy Premier John Barilaro has called our national icons 'tree-rats' but what his party is doing in parliament is even worse. In NSW, 99% of koala habitat on private land is unprotected and last week the Nationals introduced a bill into parliament that would freeze protections at this disastrously low level. Nature Conservation Council email.
Driving down south past three police cars watching traffic and below two Wedgetail Eagles. Feeling sad as we pass the turn off to Falls Retreat at Little Brother Mountain – where Mary White founded a Gondwana sanctuary for rainforest conservation and nature appreciation.
The Birrbay (Biripi) people tell the story of three brothers from the tribe who were killed by a witch called Widjirriejuggi, the three mountains are their graves. Thousands of years later, Lt James Cook sailed by in May 1770 and named the mountains Three Brothers, since 'these Hills bore some resemblance to each other'.
It was always tough to make the centre earn its keep; access was subject to creeks flooding for one thing. Mary was a renowned thinker, palaeobotanist and author who was writing her autobiography when we last saw her. She recognised us and greeted us as before, was sad because her guardian and friend, a rescued Galah, had died. She confessed that she didn't recognise most people. She managed to sell the property with her a covenant to protect the land and preserve its biodiversity in perpetuity. She reluctantly left the retreat due to old age and dementia amnd wernt to live with a daughter down south, now charged with her murder.
Kathryn Wood, then manager of the Dorrigo Rainforest Centre and myself organised a unique series of talks by leading environmentalists, as part of the Bellingen Readers and Writers Festival (BRWF) since the inaugural festival in 2011 when Mary White gave her 'Writing the Environment' talk. They became the annual Mary White Address, now ended.
~
At Laurieton two spiralling Sea Eagles wind over our lunch, the best calamari and a fish tank. Can they see the wet fish in rows on the slab?
To climb the youngest brother Dooragan, you pass a small new housing estate with three Australian Flags flying in a row along the fence, they ask so many questions of faith. The colours of an Eastern Rosella wipes away the questions.
Waiting for the gravel on the steep winding climb, finding none but lines to park in and three lookouts cantilevered out into space, one already made redundant by trees that only want to grow, but the view is Godlike, though getting fogged in the corner, a suspect storm rolling from the south. How to plan so much water into land, a jigsaw of material substances.
The whole apparition vast enough to almost ignore the houses magnetised to the shores and the straight mouth, when lines only exist when Strangler Figs drop lines through gravity.

We explore the mountain top, can see the breath in the trees, the giants have been sawed at the ankles and rolled down the mountain, a few large Blackbutt remain
Wyn pulls out a Passionfruit, wild raspberries whisper scarlet among the Lomandra, the crimson fruit of Cotoneaster, plenty of dead trees
Rain hits hard as we continue south, we sing along to Annie Lennox singing along to a Neil Young song, the one I once snag repeatedly in an Iban Longhouse, pissed on rice wine, the only song I could think of. We re-invent in those moments of headlights spray, white noise from outside, candles in the parlour, a large family gathered round the piano.
~
A tour of the Arbaro, Kit and Carol's place, a writer's retreat with art gallery, multiple dwellings, studios and gardens.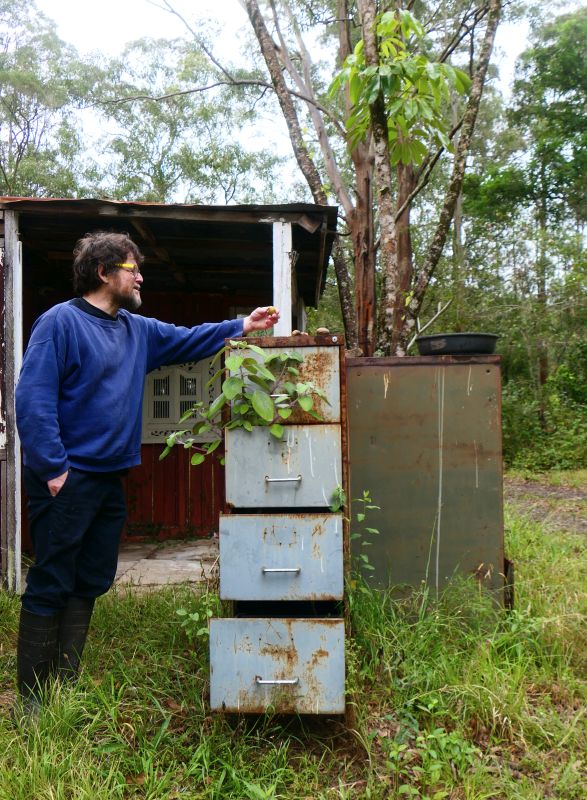 Kit is a rescuer of ruined pianos, plays one and can't play, but anyone with fingers can play we play table tennis on an outdoor table, the ball behaves almost normally. He thinks unusually.  Kit is eBay King, a magpie what catches his imagination not his eye or bank balance, old coins, cheap Chinese fakes, old envelopes with stamps.
After dinner and after a game of bonk, balls hitting balls, billiards with a ski slope and ball bearings (how do they get so perfectly round?).
Kit asks about a bird with a downward call, Wyn plays the Fan-tailed Cuckoo, the White-throated Gerygone. Not them. We play the Dollarbird call that pleasantly cackles, if you can imagine that. Carol noticed it for the first time yesterday – we jog her.