17 May, VIRUS 2020
'Savour solitude – it is not the same as loneliness'. Sara Maitland, Observer
Ireland turns to poetry to ease lockdown strain. Guardian
Explosion, fire at Los Angeles hash oil manufacturer injures 11 firefighters. ABC
Coronavirus pandemic sees spike in demand for tiny homes. ABC Coffs Coast
Obama Says U.S. Lacks Leadership on Virus. NY Times
Los Angeles explosion: 11 firefighters hurt as 'hash oil factory' burns. Guardian
Wide awake at one, I head upstairs, check my emails while listening to Get the Blessing then lie on the sofa beneath my old blanket, Bennett 21, sewn in from when I was eight at boarding school, the radio next to me head, reminding me of school again. I would hide my illicit radio under the pillow and listen to pirate radio  on a small earpiece. A Beethoven Violin Sonata  (number 1) is playing out of kilter with the night, the looming forest, the appetites of gliders, echidnas and wallabies. Rain is beginning a new life.
The machine transmits pretty (forgetful) music written before his charge into Romanticism. That same summer Wordsworth wrote his greatest poem[1] before travelling with Dorothy to Goslar, a small German town where winter imprisoned them. At least ice enabled the poet
to begin his magnum opus, 'The Prelude'.[2]
~
Kangaroos cluster on the back road devouring the wet verge, getting used to cars just feet away, a few not even looking up. 'Warraaday' is just over a year old, Gumbaynggirr for Wood Duck the totem of late Uncle Tom Kelly a gentle man. The recycled bridge timbers not tagged or vandalised. The white man's ghost walking past.
We meet our group of birders, ten max by law, good to see a pair of Beach Thick-Knees,
vulnerable, a couple of Ospreys fly across the busy street, a giddy perspective of Common Terns, Crested Terns, Silver Gulls, Sooty Oystercatchers and . . . I forget. Birds stirring the silvered light, knife-sharpened light fanning across both rivers.

A thin sea wall stretches a line of Little Black Cormorants, one Little Pied Cormorant, Great Egrets and a couple of Cattle Egrets, an incoming cormorant with short wing beats scatters a couple of Silver Gulls who complain.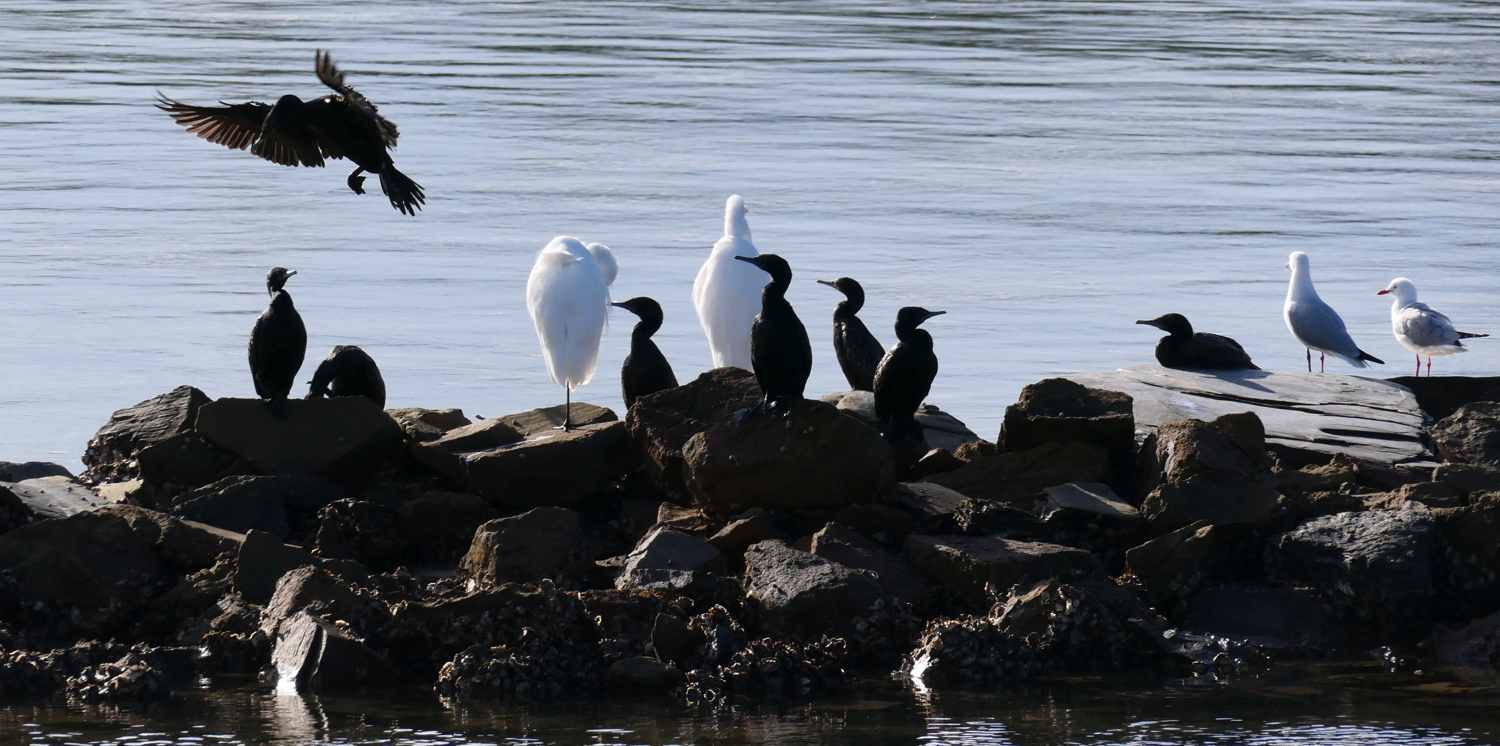 The skies see action: Lapwings mobbing an Osprey, Peewees mobbing an Osprey and then a Whistling Kite.

The sound of Glossy-Black Cockatoos floats across the water.

A Sacred Kingfisher dives for breakfast close to a group of Whimbrels, youngsters who have stayed, not undertaking that vast journey until they are older.

As we leave I look back, the line lifts and unravels in a black and white ticker-tape celebration.

Climbing the recently mowed grass bank to the sewage works, two Masked Lapwings dance warning calls, two chicks appear and run them then separate, the one ahead of me simply vanishes. Wyn finds it hunkered. I take a couple of shots then warn Gail lagging with a long lens to tread carefully.     
We visit a lake lush with waterlilies and birds, Magpie Geese rarely seen this far south, far from home their appetites seem healthy. Black Ducks are alternately skirmishing then floating.

Ginger baby Coots follow mum.

Royal Spoonbills stand in line and preen or think about civilization as they practice their term in the wilderness of a fenced off body.

Wyn's refrigerator cake is a hit. Everyone wants the recipe.

79 species Seen, (H) = Heard Only
Magpie Goose; Australian Wood Duck; Pacific Black Duck; Australasian Grebe; Rock Dove; White-headed Pigeon; Spotted Dove; Crested Pigeon; Bar-shouldered Dove; Topknot Pigeon; Australasian Gannet; Australasian Darter; Little Pied Cormorant; Little Black Cormorant; Pied Cormorant; Australian Pelican; White-faced Heron; Little Egret; Great Egret; Cattle Egret; Striated Heron; Australian White Ibis; Straw-necked Ibis; Royal Spoonbill; Eastern Osprey; Black-shouldered Kite; White-bellied Sea-Eagle; Whistling Kite; Brown Goshawk; Nankeen Kestrel; Purple Swamphen; Dusky Moorhen; Eurasian Coot; Beach Stone-curlew; Sooty Oystercatcher;  Masked Lapwing; Bar-tailed Godwit; Whimbrel; Silver Gull; Crested Tern; Glossy Black-Cockatoo ;(H); Galah; Rainbow Lorikeet; Scaly-breasted Lorikeet; Little Lorikeet; Eastern Rosella; Fan-tailed Cuckoo; Azure Kingfisher; Laughing Kookaburra; Sacred Kingfisher; Satin Bowerbird; Superb Fairy-wren; Brown Gerygone; Mangrove Gerygone; Striped Honeyeater (H); Blue-faced Honeyeater; Noisy Miner; Lewin's Honeyeater; Brown Honeyeater; White-cheeked Honeyeater; Eastern Spinebill (H); Black-faced Cuckoo-shrike (H); Eastern Whipbird (H); Golden Whistler; Australian Figbird; Olive-backed Oriole; Grey Butcherbird; Pied Butcherbird; Australian Magpie; Grey Fantail; Willie Wagtail; Torresian Crow; Magpie-lark; Mistletoebird; Golden-headed Cisticola; Welcome Swallow; Tree Martin; Common Starling; Common Myna.
~
An email from Heli in Finland:
Excited to get your talk on ruins! Still not sure about the right verb. Its amazing that there is a world in finish that is hard to translate into english.
I used to ask Germans if they had a word for fluffy.
[1] 'Lines written a few miles above Tintern Abbey, on revisiting the banks of the Wye during a tour, 13 July 1798'.
[2] Dorothy Wordsworth, letter from Goslar late 1798: It is a lifeless town…  very cold in winter. .. William is very industrious; his mind is always active; indeed, too much so; he overwearies himself, and suffers from pain and weakness in the side.