Scotts Head
For the first time, this time no surfers, no surf.
A couple stroll the sweeping contour of the bay,
the mountains sing blue-haze-Sung. Black rock
grows a stubble of lomandra longifolia on the climb
to the wide horizon. A small swollen quadrant shimmers
wedged into the present. We search the vast harbour
on the edge of consciousness, a mesmeric pastel sea
calmly repeating blue, blue, blue – patterned
like the skin cells on the back of my hand.
The wheel rests on the ocean, briefly – too bright to float,
it lifts, a blinding balloon of energy we don't really care
to think about. Surface knowledge ignores the currents.
There – Gannets below diving by the dolphins, pods
are slipping beneath us every day these last few days,
low-relief manoeuvres, graceful ballet. No whales today.

Chatting to a couple of surfers at the lookout, tell them I got Rusty Miller down from Byron for the writers festival at Valla ten years ago. They say he's still surfing at 80. Everyone surfs now, it's like yo-yo, he says. They don't know Valla well, live north of Coffs. They hear there are some whacky characters there. I tell them Roy and HG don't even know where it is (yesterday's Bludging on the blindside on the radio).
I take their photograph as they are taking selfies, then use her phone to shoot them smiling and kissing with the sun rising between them. People don't realise how lucky we are. I know, she says, youngsters are complaining all the time, they need to flip it. They live in Indonesia part of the year. He says the locals have nothing but are happy. What is the co-efficient of happiness? He was born in 66. 'Ah, I say, one of the happiest days of my life, England beat West Germany to win the World Cup. Afterwards, I held dad's hand and we went into town to celebrate, buying wine gums in the sweet shop.
Yarriabini
We are on this sacred Gumbaynggirr mountain behind Scotts Head on the last day of NAIDOC week, to pay respects and to find a lyrebird. We have heard them here before. We park beside a Land Rover Discovery and swag. I ask if he had heard any lyrebirds, he looks bemused. It's very quiet. Light stammers in the rainforest, the bed is littered with dead Bangalow fronds. We follow Way Way Creek reluctantly trickling down its rocky vein. A Wompoo fruit dove calls just once. Was he expecting a response to that eccentric call, not a melody in sight.
So much is buried in the leaf litter. I admire the resilience of the Dunghutti, Ngambaa and Gumbaynggirr who knew and loved this Country so hard. In the mid-1830s, Europeans estimated that the indigenous population on this coast was amongst the largest in Australia. So much erasure. All those who have died have taken so much with them. We climb up an old logging track past the ghosts of their labour. I feel my pulse quickening, my breathing labours. Height above sea level is not my competence.
Back in the grove, above the colourful Koala, aerial gold dips onto the tallest gum trees, the Flooded Gums are planted bone-white, steel-straight.
The large mosaic depicts a creation story told by Uncle Harry 'tiger' Buchanan of two sand goanna sisters who stayed home when the others went to fight. A young man had hidden from the war party and came to marry a sister. They killed him, and angry, cut off his clan by raising the sea level.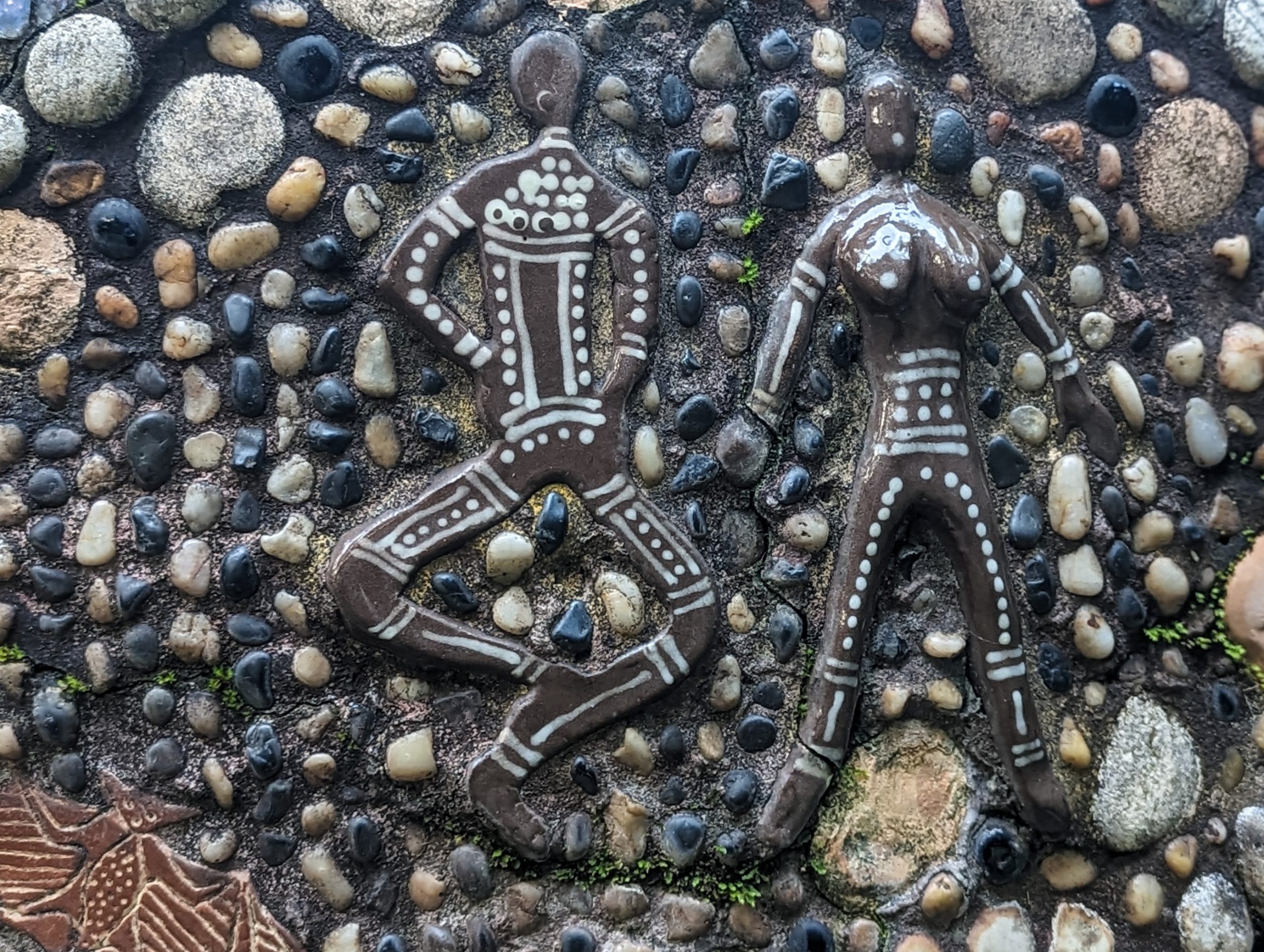 Uncle Mark told me the next part of the creation story. The Dunggirr Gagu (the Koala Brothers) saved the Gumbaynggirr by using their long intestines to form a bridge back to the mainland. [Their intestinal pouch (cecum) is 2 metres long. Humans have a small one at the side of the beginning of the large intestine.] But then the two giant koalas had a terrible fight and went rolling down the mountain. Yarriabini, meaning 'koala rolling'.
In Uncle Harry's tale, a Tiger Cat (Baalijin, the Eastern Quoll) tries to destroy the bridge by whipping up huge seas. The Koalas drown him, but then an enemy kills one of the Koalas with a boomerang. The three peaks are three body parts, and a head rolled down creating the gully on the southern flank. So maybe it wasn't fratricide.
I photograph some of the ornate details, dolphins (a popular totem), cockatoos, stingrays, and U forms (perhaps borrowed from the Red Centre, a symbol for people). Apologies – I have forgotten the names of the artists and can't believe it but looking online, the numerous images do not provide the creators names either. The word 'koala' comes from Dharug of the Sydney region and derives from 'gula' meaning 'no drink'. Koalas rarely drink (and none have been seen here for over thirty years).
This picnic area was cleared nearly a hundred years ago and a grove of Hoop Pines, a Queensland tree, planted. Still early, the pines postpone sunlight, but a Common Bronzewing pigeon stopped on the track is a gilded vision, even in this leafy gloom, a dark lattice with few windows. The word common does not apply to magnetic beauty.
Afternoon Tea
I forgot to check for ticks and leeches. What will happen to us now? What are our transgressions? An alert on my phone, I see when we get home – 'Dad's birthday – let them know you are thinking of them . . .' I didn't see it until after I mentioned you, and I had forgotten your birthday, sorry dad. Yet, I thought of you, so maybe I hadn't. You died 1pm, 6th of August, 2015.
Around 3pm, we were having tea at the neighbours across the road, talking about our health issues (of course) and the tipping points that could see the sea lapping our properties by the end of the century, when I felt an itch. I knew immediately – I had caught a tick, or rather, a tick had caught me, in the groin. We retired to their bathroom, but Wyn's nails couldn't pluck it, so she popped home and got the dedicated tweezers. She is wonderful. I love her and I kiss her a lot, but not as much in public as the two surfers we met early this morning.