Bimblebox: art – science – nature at NERAM, Armidale March, 2016
The Bimblebox Art Project was begun in 2012 by artist Jill Sampson who continues as co-ordinator.  Its aim is to creatively engage with and to document the Bimblebox Nature Refuge which is under threat from coal mining.
'Grass from Bimblebox becomes something new. Sewing the 'earth' back together again using recycled wool blankets eco-dyed at Bimblebox.'
'Their history is unknown. However, each blanket started out as wool on an Australian sheep.' Jill has stitched landscape into these blankets, and the blankets into the landscape.
Congratulations to Jill on such an ambitious project involving visual artists, writers and musicians. Her work is very rewarding.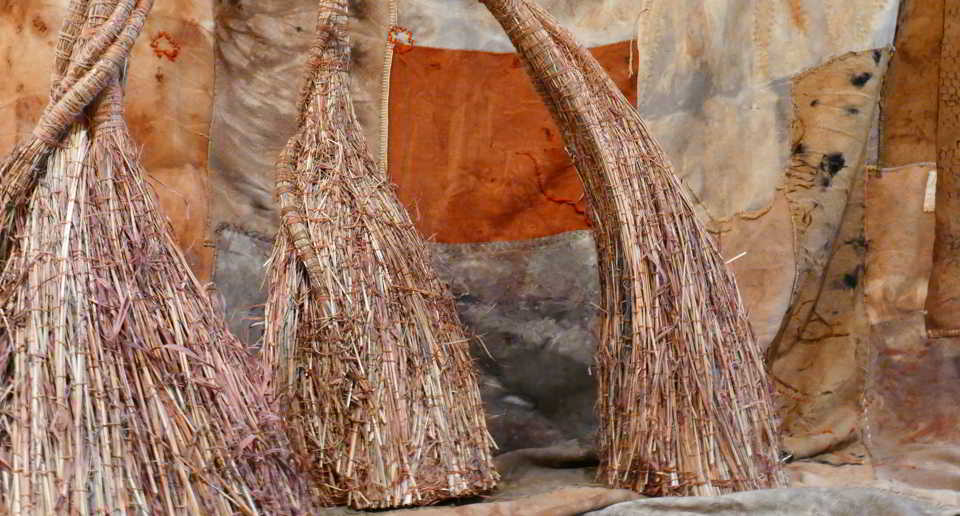 153 birds, 153 writers each chose one of the birds,
I chose Oriolus sagittatus  –  Olive-backed Oriole
The disciples ignored the Dead-Sea Sparrows and Black Francolins when Jesus walked on water in the shallow Sea of Galilee, and they missed the hundred thousand cranes migrating overhead and miracle of a rare Golden Oriole flying by. Our sea of Galilee is an ancient parched Permian basin in imminent danger of losing its life through deep incisions.
A few weeks back I found a nest trailing yellowed strands of grass, messy compared to a robin's tightly woven build below. The overhanging tail belonged to an Olive-backed Oriole, but when the sun hit its back, I could swear the feathers shone emerald. Her mate carefully plucked the last red fruit as frenzied Figbird cousins scoured a nearby Scentless Rosewood. They appeared to brook no nonsense; after all, birds are simply dinosaurs attempting to survive.
I love their fluid warble, a tin whistle with a wooden pea, musical but without extravagance, a fast waltz of G sharp quavers, stressed on the third beat, repeated a little flat. Right now, in a Bloodwood outside my window, an oriole is singing
Valla Beach, December 2014
For more see my earlier post – or the Bimblebox site.