24 July, 2020
Our Tjukurpa Law is all-encompassing. It was always intended to be eternal, but we know it is at risk. This is why I am documenting it now. I want to raise people's consciousness. Kunmanara Mumu Mike Williams
With its 'classical' style and pretensions, The Art Gallery of New South Wales vestibule is the perfect post-colonial backdrop for my new offering A Dickensian Circus. Karla Dickens, 2020
The black curtain is a lace veil over reality, concern passing over the features of a loved face . . . And there are no geographies in the world as good as where I am going to take you. Joel Andrianomeasrisoa
At the core of The Mulka Project resides a growing, living archive of Yolŋu knowledge, ceremony, and cultural history. The word, dance, song, and law of elders past return to the minds and hearts of our people and repeat on through the generations. Mulka Team, Watami Manikay, 2020
Driving past the window cleaners to Mrs Macquarie's chair in Andrew's new Audi, top down, the way she used to ride in her carriage down to gaze east towards the Heads looking for ships from home. I look West at a new vantage of the Harbour Bridge and Opera House.

I enter the Botanic Gardens via Victoria Gate pausing to take photographs of imprisonment.

The birds are all large and in black and white.


Beauty still surrounds me, but it sometimes curtailed, sometimes accentuated.

Little from the original site is left, a rich tidal inlet and shallow bay with Bangalay, Swamp Mahogany,   Cabbage-tree palms and Bangalow Palms, a shoreline full of ducks and animals.

A pair of Swamp Oaks are looking untidy and brilliant.
The gardens have some lovely walls and lattice ceilings.

I leave via the Woolloomooloo Gate and pass a prisoner transfer van, hinting at the underbelly.

Hoardings for the new art gallery extension are art by Joan Ross, 'We have sung the same song for millions of years'.

Art Gallery of New South Wales
The gallery is empty early, and no school children. The atrium is filled with Karla Dickens' eclectic installation 'A Dickensian Circus'.

A  riot of recycled everyday items have been repurposed to narrate the history of Aboriginal people in working circus shows and tent-boxing from the 1920s to the 1950s.

The main foyer is hung with banners, 'Kulilaya munu nintiriwa (Listen and learn)', 2020 from Kunmanara Mumu Mike Williams and the Collaboration Mimili Maku Arts. The words and images from Kunmanara Mumu's personal archive 'project his belief in the power of words to effect change.'

What do we believe words can do?

Mike Williams Nya Manta (What is Land?

'What is land?
No.
It belongs to the old men and the old women.
Understand that this whole continent is sacred land, Belonging to the senior
men and women.
Listen. This whole continent is filled with the power of the Dreaming.
It is our land.
Do you understand me?'
Josep Grau-Garriga, Retaule dels penjats (Altarpiece of the Hanged People), 1972-76. Woven fibres hang as ghostly, ethnographic ritual objects and uniforms.

Black scrims and veils by the Madagascan artist Joel Andrianomeasrisoa hide CH Hunt's 'Sydney from the North Shore'. He talks of 'creating a liminal edge space'.

The artists have left alone John Glover (who arrived in Tasmania on his 64th birthday) and his depictions of corrobborees (dtl above).
from John Glover's Ouse (a 20 yr old poem of mine)
My object was to give an idea of the gay happy life the Natives led before the white people came here. John Glover, 1835
Bulked up, gouty and prosperous, the English painter
sailed south to visit his sons and stayed a merchant,
trading English landscapes for colonial nostalgia,
freighting paintings on the loop of exotic wilderness
working the poles of curiosity and longing
of Aborigines in a timeless country.
A composition, noticeable for scenic values
the Ouse (The Great Ouse draining to the Wash
over Bulldog Sand, another Ouse bisecting
York into the Humber) flows mid-picture
between graceful gums spiralling into the sky.
Stumps and timber litter the foreground
cleared land farmed into evening – and
a reminder that dead trees proliferate
in a natural forest . . .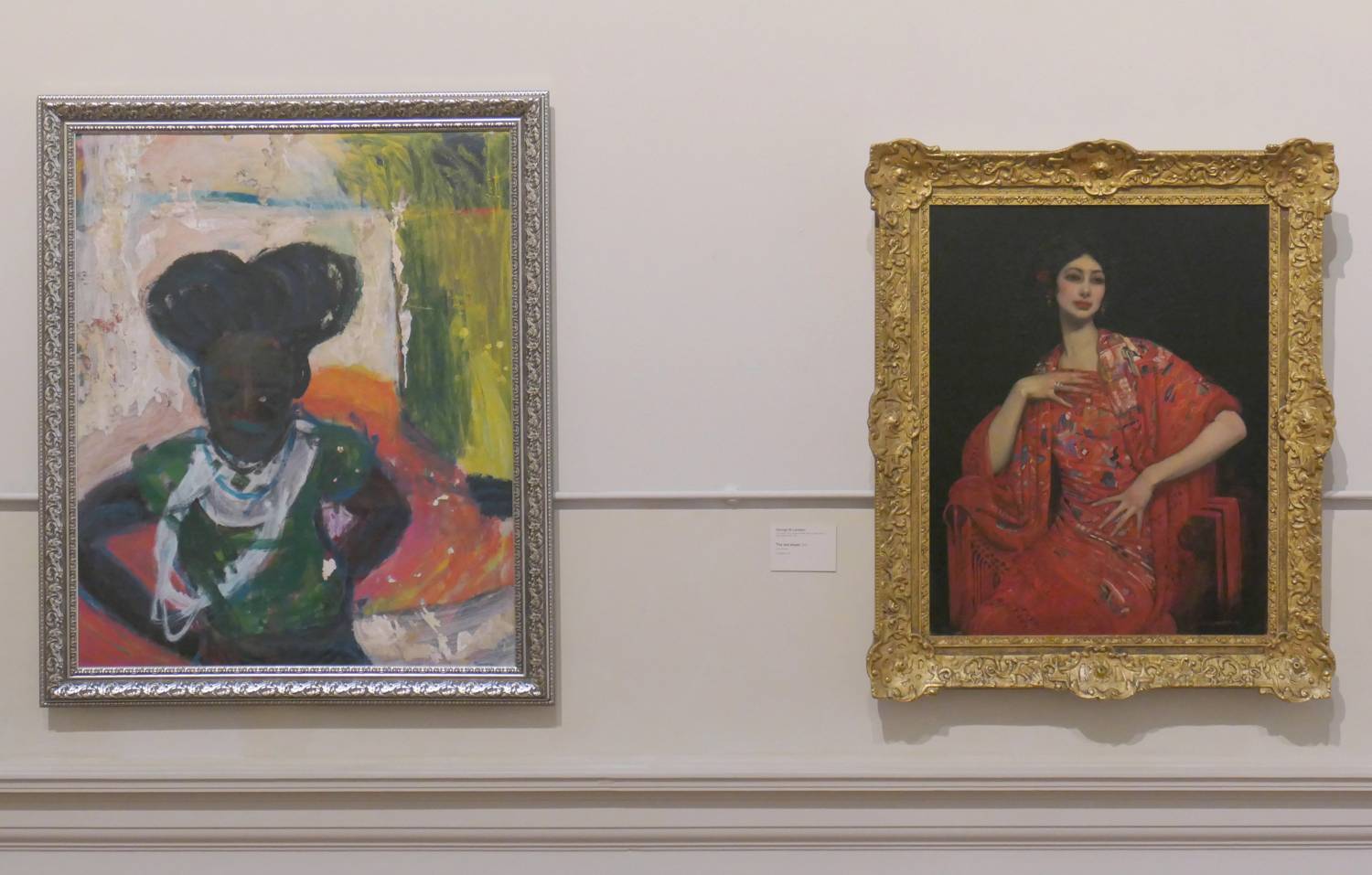 Zimbabwe's Mostaff Muchawaya's expressive portrait is a painting I can't appreciate hanging beside George Lambert's Red Shawl, which points to the skill of a painter I have never really looked at before.

Bronwyn Katz has 3D minimalist works with mechanical sounds which can't attract the attention like Laurens Craen's Landscape with Imaginary View c1650 which sits between them. The humble lemon plays a major role in the history of still art, often partly peeled in a continuous helix. John Walsh from the Getty claims, 'The peeled lemon becomes in fact a kind of compulsory figure among still life painters for grace and precision.' For more on lemons.
I walk in on Eos. Watami Manikay is a Mulka Project, Yolŋu knowledge from Yirrkala, North East Arnhem Land. The three large screen projections have at their centre a larrakitj (hollow ceremonial log) painted white with gapan (ceremonial clay), projected images change its nature.

The expanse of water accepts the opening of the day, the yellow ochre of Eos turning darker to red – I feel at home with the sky, the sea, the light, almost back home in Valla.
Wyn and I had an argument a few weeks ago about the kind of bird flying over Nolan's Pretty Polly Mine of 1948. I find I have lost, though a Yellow-tailed Black Cockatoo is black.
I revisit Ct Twombly's 'Three studies from the Temeraire' (1998-99). A fabulous work which I have just mentioned in a new video 'Fact Checking Turner' (working title), currently in post production. One of the three studies . . .

The Tutini, Pukumani grave posts, from 1958 possess an aura and are very significant works.[1]
As usual I gaze at a painting I covert, 'Warlugulong' by Clifford Possum Tjapaltjarri & Tim Leura Tjapaltjarri's (1976), one of the great paintings anywhere in the world.

It is a painting that sucks you in to its red centre. Warlugulong is the Anmatyerr name for a site north-west of Alice Springs where Lungkata the Blue-Tongue Lizard Man created the first great bushfire. [2]
~
Museum Station is deserted

And the large advert makes two huge mistakes.

In 1939 Müller synthesized the chlorinated hydrocarbon dichlorodiphenyltrichloroethane. … He took some DDT home with him one day and powdered a small amount into a container and noted that it killed flies. [3]
After my recent train mistakes I ask the station guard which train, catch it then find myself heading to Circular Quay in the opposite direction. I hop out check the screen. It is the right train, but going in a different direction. I only left this city a decade ago, but find it discombobulating.
~
In the afternoon I catch up with Andrew for a drive, he's on a mission. We head down Paramatta Road, The Great Western Highway,  then into a very long tunnel, the noise extraordinary with the roof down. The traffic is busy in Sydney's west.
We leave the highway at Riverstone, down a country road that filled me with hope, but soon came upon light industry, a couple of estates, petrol stations, small old weatherboards and a few derelict buildings, a couple of new houses sitting alone with no landscaping, surrounded by scrub of poor paddocks, farming here seems lost. This is the Cumberland basin and many of its ecological communities are listed as endangered.
We pass a vast level of dirt, machines working over it, undressed pink houses cluster near a huge building still being finished.
'Country' and 'city' are very powerful words, and this is not surprising when we remember how much they seem to stand for in the experience of human communities . . . In the country has gathered the idea of a natural way of life: of peace, innocence, and simple virtue. On the city has gathered the idea of an achieved centre of learning, communication, light. Powerful hostile associations have also developed: on the city as a place of noise, worldliness and ambition; on the country as a place of backwardness, ignorance, limitation. A contrast between country and city, as fundamental ways of life, reaches back into classical times. Raymond Williams[4]
A large house with evidence of its construction lying about boasts a circular gravel drive. In the centre stands a large white statue of Rodin's 'Le Penseur' on a plinth, originally sketched for a figure in The Gates of Hell. Is this a gentle version of Dante's hell? I hoped we would stop on the way back to document this vision, but we returned over the Harbour Bridge.
The Cumberland Plain, Western Sydney is our home – and it is in crisis. Government policy on population, planning and biodiversity are driving some of the highest rates of land clearing seen anywhere in the world and forcibly displacing entire rural communities. Our communities and our ecosystems are at breaking point: this is a war on people, community and the wild. [5]
Down the road an old weatherboard boasts a large Australian Flag covering one of its two windows. I feel alienated. Firewood for sale, hand-made garden ornaments, a motel, the land is flat, the sky enormous. Clouds are gathering for the weekend's forecast deluge.
At Mulgrave, we have to stop and ask directions. Andrew talks business, I photograph a non-space with beautiful grasses and art.

In 1516 Sir Thomas More wrote 'Utopia' coined from the Greek ou-topos meaning 'no place' or 'nowhere'. The near identical Greek word eu-topos means 'good place'. Place is a central key to our happiness and identity.
[1] Laurie Nelson Mungatopi, Bob Apuatimi, Jack Yarunga, Don Burakmadjua, Charlie Kwangdini Tiwi, North region. The first major commission of Aboriginal art by a gallery of modern art. Made of Ironwood, not Bloodwood (traditionally used in their ritual life). They are placed around the grave with singing and dancing
[2] One of my favourite indigenous painters Clifford Possum Tjapaltjarri lived and worked in his ancestral country for most of his life. He was central to the Papunya Tula movement and probably the first to paint an all dot painting He viewed his practice as a continuation of tradition. The painting has stories and movement throughout the canvas, told in the 'Papunya Tula: Genesis and Genius' exhibition catalogue.
[3] Cristobal S. Berry-Caban, 'DDT and Silent Spring: Fifty years after', Journal of Military and Veterans' Health, JMVH,  Issue Volume 19 No. 4, October, 2011.
[4] Raymond Williams, The Country and The City, 1973. I read this for a university course and always admired his straightforward prose and his critical thinking.
[5] State of the Cumberland Plain 2017-2018, Greater Sydney Landcare Network.