17 September, VIRUS 2020
Chinese fishing armada plundered waters around Galápagos, data shows. The Guardian
Shocking state of English rivers revealed as all of them fail pollution tests. The Guardian
Regent parrots thriving in South Australian wetland. Australian Geographic
Guide to the Classics: The Secret Garden and the healing power of nature. The Conversation
Legend has it that the giant stinging trees in the rain forests of eastern Australia drive men to madness and has prompted horses to hurl themselves off cliffs. There's some truth to it: the hypodermic-needle-like hairs of its leaves inject a toxin that can cause pain in waves for hours or days. New York Times
Environment Minister Sussan Ley faces a critical test: will she let a mine destroy koala breeding grounds? The Brandy Hill Quarry expansion was approved under the weak environment laws of NSW. Now, the federal government must decide if it will proceed. The fate of many koalas is in Sussan Ley's hands. The Conversation
Ecologists sound alarm on plastic pollution. https://phys.org/news (Science)
There's much to be said for mist, for altering perception,
natural variant of a Claude Glass or mescaline, the cows
are beautiful, much too good to eat, or work as slaves
in milking sheda. They should be curated, gently herded
into a painting, the sun always rising, influenced of course
by the Heidelberg School.
The trees loom silhouettes offering more clarity than under
a midday sun, with the clarity of old age, under one vast halo.
The road brushes along the Macleay with mist on a mission,
hundreds of cormorants fly up as we pass then vanish.
I find somewhere safe to stop, a farm entrance, bring
my camera but the veil is lifting from the sun's caress.


We check out the boat ramp and find abandoned fowl.
We spy on birds from the bird hide, though the action
in nearly always across the road in the shallow ponds
though always hard to discern prospects of divination.
~
Monument Hill Walk, Trial Bay
The patient mother stands by the memorial to German
prisoners of war as her elderly joey suckles hard
for a good five minutes. We wait in disbelief that
a European war could reach this bay's smooth stomach
and green shoulders, contours bearing a wild blue sky.
Timing is all. The point is on its knees, while the hillside
sings the rhetoric of spring, the hillside in exuberant efflorescence.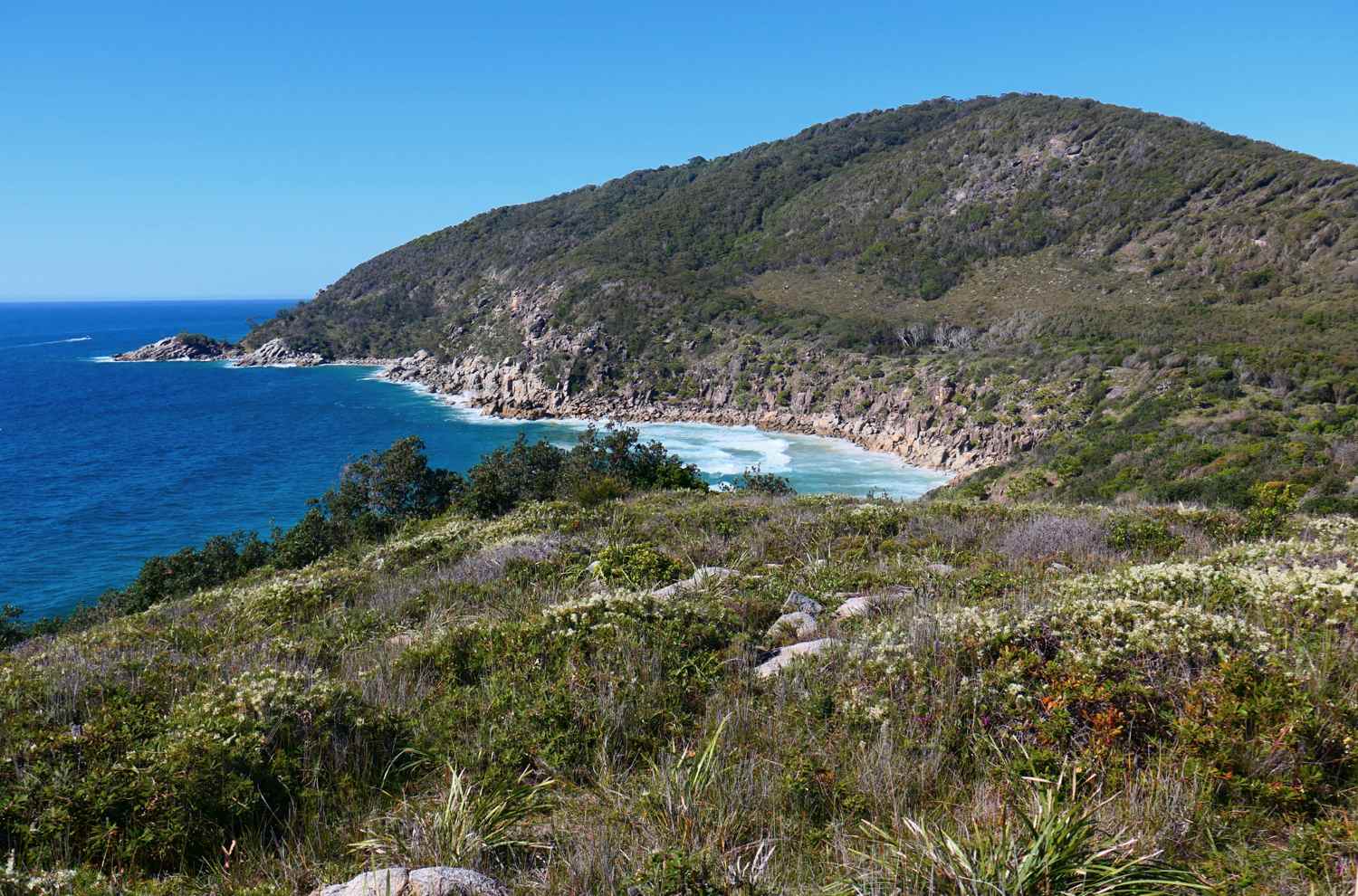 The carpet is a tight weave of Dagger Hakea, prostrate Banksia
Boronia, Flag Iris and Yellow Rush Lilly. We can hear a whale
exhaling just below, out of site beneath the lean of the hill.
Concentration trails a pod of dolphins following the cliff
coming this way inside the blinding sun sheen. I wait.

I want to watch but have to take photographs.
We have a thirst for such sights, full of good intentions.
Then there are the unmarked graves. The cross lost.

The Banksia seed case has been emptied out
and is ready to burn again, to add fuel to the fire
and this wild swarm of flowering plants, so late
on the scene, having to wait for the bees and beetles.
The beauty and diversrity that a spring bushwalk offers beats any single work of art hands down.
Back at the car, we are asked if we saw any whales,
I point to two puffs, like smoke or the splash from civil war
cannonballs. An Osprey, not flying, glides across the eyeline,
I lift my camera, press, nothing, stalled, still set in macro
and manual for the spider. I scold myself, then question
this journal, this artificial request to record every day,
spawning one circulation of the sun.
What I can't show you, apart from the Osprey, are two
Southern Right Whales in amongst a dozen Humpbacks,
(both deserving more glorious names), a large skink
slithering under lichen painted granite, or the whiff
the cinnamon scent seeding the air by Dagger Hakea.
~
The first Asparagus shoot is leaving earth behind.