First day of summer
And it's the first sunny morning since we arrived just over a week ago. Up at six we track the Grand Union Canal and the River Ouse. Our first chat is to a Polish fisherman, unusually friendly and loquacious (for a fisherman), hoping for Bream, having breakfast and just pleased 'to get away from the wife and kids'.
A pair of swans and their cygnets, sleep on the grass strip of the towpath, we pass within arm's length.
The aqueduct is a feat of engineering from 1811. This was the fourth attempt to lift a canal over the river, a wonderful piece of pre-Victorian engineering and determination by capital.
This was the start of the industrial revolution. Around 1800, the average consumption in England was just over 2,000 calories a day, with the poor eating a mere 1,500 (Gregory Clark, economics historian). Hunter-gatherer societies typically enjoy diets of 2,300 calories or more. The work must have been exhausting. This wonder of engineering needed navvies to move over two million wheelbarrows of earth for the embankment at 11metres high and nearly a kilometre long. A thought wafts by of the number of deaths and serious injuries that happened here. We are still living off the poor, our clothes, chocolate, phones come from poor labourers.
 We stroll along past narrow boats, ducklings, Greenfinches and Bullfinches, then descend to river level, Geese and Lapwings fill the ponds of the quarry guarded by intriguing warning signs of quicksand.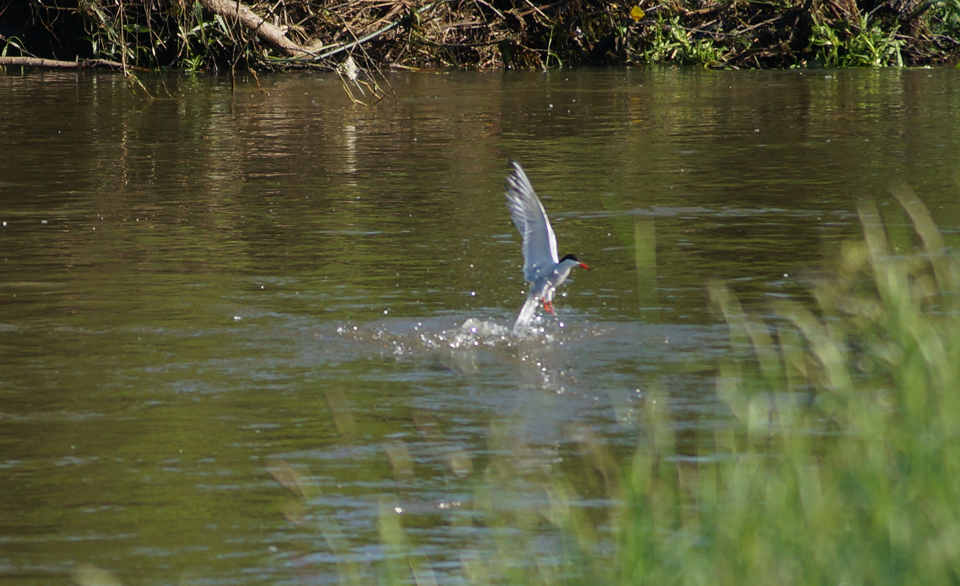 Turning away and through the narrow tunnel towards Stony Stratford we find a tern hunting in the river and feeding another.
The young farmer jokes how hungry the steers are after a Saturday night. No fishing in the millrace – the mill developed into apartments. Plenty of dogs. We turn back at the sound of traffic. South east England has the population density of the Netherlands I heard later in the day, and that is not including London.